The Flexorcists [$5.00]
: by
@SprintingOwl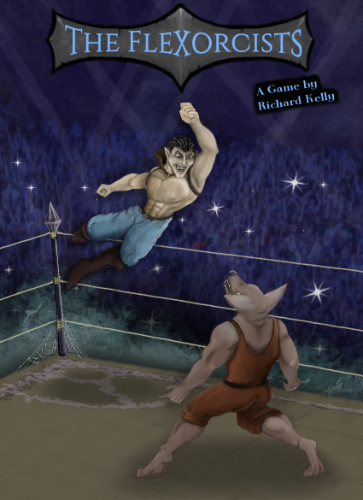 It started in the late year 200X. Ghosts, demons, and other occult forces grew resistant to conventional exorcisms. Minor possessions, the kind that would previously have been resolved with a sprinkle of holy water and a few minutes of half-hearted praying, suddenly became multiple-hour-long, life-or-death ordeals.

Major possessions swallowed entire townships and broke holy men.

Worse, the unspoken rule that a possessing force had to operate only through the local environment became snapped and frayed.

Possessors could now manifest physically, and they were extremely swole.

Thus, the world entered a new age of banishments. Gone were the days when any reedy man could cast out a demon.

Fighting the supernatural was now a job for…

The Flexorcists.

--------------------------------------------------------------------------------------------------

The Flexorcists is a tabletop rpg about pro-wrestlers working a side-gig where they banish ghosts, stake draculas, and powerbomb creatures from lagoons.

It's best for one-shots, but supports limited campaign play, and its primary mechanics use d10s and rock-paper-scissors.
In order to download this game you must purchase it at or above the minimum price of $5 USD. You will get access to the following files:
Support this game at or above a special price point to receive something exclusive.
If you need one, grab a copy at no cost.