Ghost Horse [Free]
: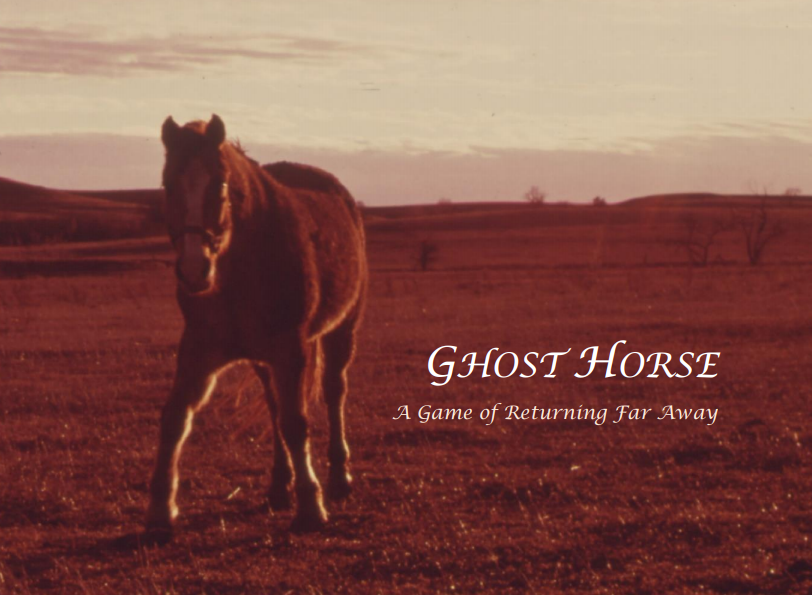 Ghost Horse is a 2-player RPG about a horse returning to their rider.
Content Warning:
As part of the setting, Ghost Horse involves animal death. It is not a Western per-se, but it deals with settings from the American West, so could stray into sensitive cultural and political topics inherent in that setting and the broader fiction therein. Please be thoughtful of yourself and your fellow player, and consider using appropriate safety tools such as
John Stavrpoulos's X-card
, Lines [for topics you do not wish to bring up] and Veils [for topics you want to "zoom out" or focus away from].
Dust blows across the Great Basin. Once, this was a massive forest, with redwoods towering into the clear sky. Thousands of years ago, your ancestors met here.
Riders
cross the desert regularly. For them, it offers little - a chance to get rich, or to lose everything. The beauty of the desert is lost on most of them.
Horses
live for the desert. It offers them everything, from shrub grasses to snakeweed, from rivers to springs. A horse can live their fullest life out here.
You
, the players, will embody these two roles, explore the bond that formed between you, and how that bond was tested to breaking point. Throughout the game's play, the two of you will begin separated, and play to find out how you are reunited - and whether each is the same being the other left behind.