To Reign in Hell [$5.00]
: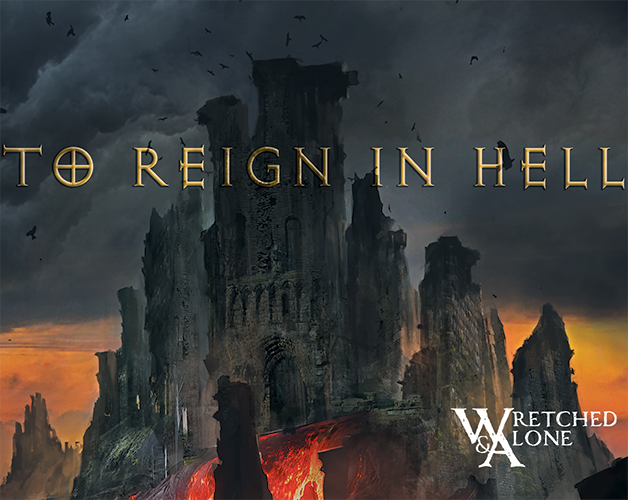 To Reign in Hell
is a solo TTRPG / Journaling game about fear, lamentation, and loss, but it is also about pride, determination, and hope. You play the last warden of Hell, and you are utterly alone. The seals maintaining the prison are failing, and the malevolent souls of the damned constantly tear at the walls to escape. You have lost everyone who could help you, and whatever purpose you once fulfilled, it has long since been replaced by this lost cause. Though the situation is dire, the outlook bleak, you once fought a war against Heaven itself, so it is not in your nature to submit. You are indeed alone, but you persevere. Doubt, however, can be insidious, and hope is an unreliable ally.
To Reign in Hell
is part of the Wretched & Alone game jam. Details can be found here:
https://itch.io/jam/wretched-jam
The Wretched
, by Chris Bissette, is the game that pioneered the Wretched & Alone system, and it is truly the exemplar of the genre. Check it out here:
https://loottheroom.itch.io/wretched
Want to make your own Wretched & Alone game? It is recommended that you check out other games in the genre, but you can also pick up the game designer's SRD here:
https://sealedlibrary.itch.io/wretched-alone-srd
Purchasing
To Reign in Hell
comes with access to the full art version, the printer friendly version, and the printer friendly + improved accessibility version (formatted with OpenDyslexic font, increased spacing, and high contrast).
In order to download this game you must purchase it at or above the minimum price of $5 USD. You will get access to the following files:
Support this game at or above a special price point to receive something exclusive.
If you are in need and can't afford a copy of the game, help yourself to a free community copy of
To Reign in Hell
below.
Every paid purchase contributes more free community copies to the pool, so your generosity can help others experience the game:
1 purchase at the minimum price = +1 community copy
Tips in $5 increments over the asking price add an additional +1 copy per $5