Into Blue Midnight [$7.00]
: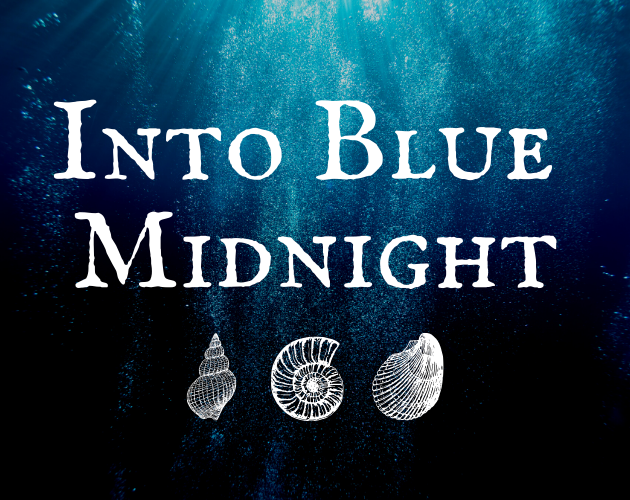 The expedition was going so well, but at 3,000 feet below the surface, when the ocean turns from blue to black, everything goes wrong.
Something cracks. Water starts to fill at your feet. The crane at the surface jams. The radio line goes quiet. And now the two of you are alone, only a few layers of steel and a quartz window to keep you from death.
You have one hour of oxygen left.
Conserve breath, repair the bathysphere as much as you can, record what you see in the blue midnight of the ocean...and hope that you will see the surface again.
------
Inspired by the voyage of the bathysphere and the world's first deep sea dive, Into Blue Midnight is a GMless two-player Wretched and Alone game that lets you play out the last hour of two scientists within the bathysphere when everything goes wrong.
All it requires are two players, a single six-sided die, a standard deck of cards, a block tower, some tokens, pen and paper, and a container of water.
CW: this game deals heavily with themes of death, drowning, and despair, and has a high likelihood of player character death
------
This work is based on The Wretched (found at http://loottheroom.itch.io/wretched), product of Chris Bissette and Loot The Room, and licensed for our use under the Creative Commons Attribution 3.0 Unported license (http:// creativecommons.org/licenses/by/3.0/).
It was created for the #WretchedJam, hosted by @pangalactic and @sealedlibrary
In order to download this game you must purchase it at or above the minimum price of $7 CAD. You will get access to the following files:
Support this game at or above a special price point to receive something exclusive.
Claim a free copy of Into Blue Midnight (for those who are marginalized or who are in need). Copies are limited, but will grow with each bought copy.